Farming for the Future
Lichen talks with Sinead Fenton of Aweside Farm, a regenerative farm in Sussex advocating for agricultural responsibility within the UK
Text Mirabella Shahidullah
Sinead Fenton of Aweside Farm, photograph courtesy of Fenton
In 2019, the World Wildlife Fund (WWF) published a report stating that the biggest impact on UK wildlife over the last fifty years has been the intensification of the agricultural industries. According to WWF,
over 70% of the UK is farmland, which over the decades, has utterly depleted natural resources for native wildlife
. As a result, much of the UK's wildlife is directly under threat, with 30% of UK birds now facing extinction and the land itself becoming a space of erosion. In mere years, more and more natural habitats such as wildflower meadows, hedgerows and forestry will be permanently lost due to the inherent unsustainability of traditional agricultural practices. It is clear that action must be taken, but how? Farming is an important industry within this country and provides the livelihood for hundreds of thousands of British people every year.
However, that doesn't mean that traditional farming can't evolve. An answer to the environmental damage caused by the agricultural industry has to do with re-evaluating our relationship with the land itself. Instead of the one-way relationship we currently have, a symbiotic relationship may be what the industry is missing. Regenerative farming, also known as regenerative agriculture, is exactly what this symbiotic relationship with the land would look like. In comparison with traditional farming, a regenerative approach focuses on rehabilitating land by increasing biodiversity. Though regenerative practices have been around for a long time, regenerative agriculture has received more importance in the last ten years as a way to combat increased wildlife extinction, pollution and further degradation of our land and water. It is a promising answer, but what exactly does regenerative farming look like?
Enter Sinead Fenton of Aweside Farm, a regenerative, veganic farm in Surrey run by Fenton and her partner Adam that is paving the path for a regenerative future. 'A lot of our farming fits into this destructive side where we are washing away our soil and within that wildlife is declining,' Fenton explains, 'there is also a move for sustainable farming which is about maintaining the status quo, not taking too much out, keeping it in within certain limits, [but] regenerative farming is that one step further that we need to go, actually increasing wildlife, increasing carbon within soil, adding trees for carbon deforestation […] and not just sustaining a system, but building a system back into good health.'
Sinead and Adam of Aweside Farm moved to their farm officially in March, two days before
the first national lockdown, photograph: Aweside Farm
Surprisingly, Fenton and her partner, Adam, only started working on their farm this year. Originally from London, Fenton was not always a farmer, nor did she grow up on a farm. Her growing journey started four years ago when she was still working full-time within the mining industry, 'I had always been fascinated with nature, but I was working in a subject that was quite destructive, I started to think, what could I do that would still allow me to be outdoors and be part of the system rather than just taking away from it.' Before long, Fenton's desire to work within nature naturally led her to food growing. Together, Adam and Sinead soon volunteered at Audacious Veg, a growing project in Hainault, East London that encourages people to adopt a growth attitude towards gardening and increasing greenery within an urban environment.

Not much time had passed when Sinead and Adam decided to take over the communal garden and run it themselves, 'Completely naively,' Fenton recalls, 'we had no growing skills, no business skills, no nothing, we were really just up for the challenge.' After working on the allotment for a few years, Fenton soon realised that it was something she wanted to transition doing on a full-time basis. After a potential project fell through due to the small size of the land, the couple realised that if they were serious about transitioning to something permanent, they had to move. An opportunity cropped up to buy land with the Ecological Land Co-op, an organisation helping potential farmers buy land in order to regenerate the land for the future. Sinead and Adam seized the moment, buying the land and deciding to move from London to East Sussex.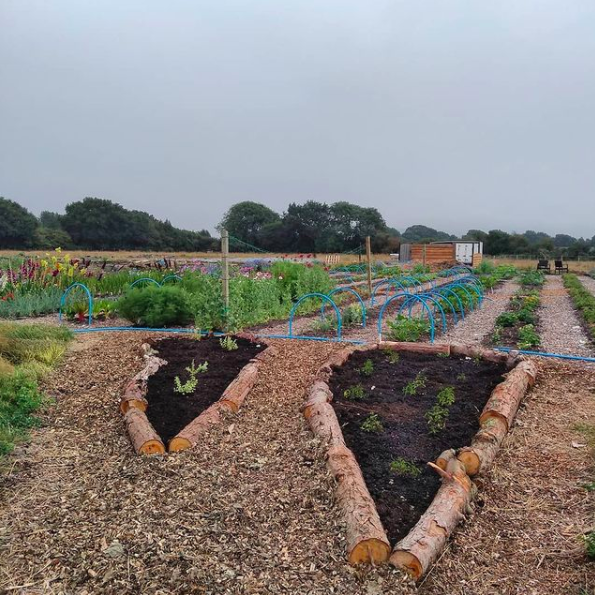 Though the pandemic has not been easy for business, Fenton counts herself lucky that they have had time to watch the land regenerate, photographs: Aweside Farm
The move was not easy. Though the communal garden no longer had the capacity for their growing projects, starting completely from scratch was more than they might have anticipated, and the UK outbreak of the COVID-19 pandemic did not make it any easier. In fact, Sinead and Adam moved to the land just two days before the first lockdown in March. Since then, working on the farm has been a learning curve for the couple, 'In the place we worked at before, everything was done for us, twenty years ago it was land covered in bramble and people came and regenerated it. We had been inspired by that and wanted to create it ourselves but it's really easy writing things down on paper, but physically doing it takes a toll on you.' Fenton tells me. For Adam and Sinead, the year brought many challenges that prevented them from their previous plans for the land, and with the restaurant closures caused by the pandemic, their income was seriously hampered.

Though the pandemic caused numerous challenges, Fenton still counts herself fortunate for their position now. 'We were staying with my mom in London so to leave that environment […] and going to a place that was a rural, outdoor space and although it's given us a year with a lot of struggle, it's been kind of good to slow down a little bit with building the farm.' In fact, one of the first principals of permaculture design is to wait and have the opportunity to watch the land for a year before you do any work on it Fenton tells me. Since the initial move, Sinead and Adam have found more positives within the last ten months. 'There is a lot of things we would have missed if we had just come in and set up staff, started harvesting and selling right away,' Fenton muses, 'we wouldn't have seen the little quirks and ways the land works if we didn't have the forced stop on us.'

So, what has it been like taking care of a regenerative, veganic farm throughout the pandemic? For Sinead and Adam, their first year has been a very mixed bag to say the least, 'At the moment it's about building, making all of our dig beds [for] growing in next year, loads of tree planting and a lot of ground-work,' Fenton states. In the future though they eventually want to start running Aweside Farm as a normal operation with a bigger focus on their business such as sowing seeds, harvesting and transporting their flowers and produce to restaurants and buyers.



"Our baseline for how we think of nature and wildlife is completely not what it should be, but we only know what we know because we are exposed to the world we are in... Aweside Farm has made me very aware of how much has been taken away from us."

Sinead Fenton

Though they have only been there less than a year, already Fenton has seen the magic of how the land is slowly reviving, 'When we first moved, there were no worms in the soil and little to no organic matter […] it was completely silent and really still and a year of just being here and actually letting the land do what it wants, seeing how quickly wildlife has bounced back. I think it's really made us aware of how much our generation has been deprived.' In contrast to the silence of the land before, the farm is now filled with returning wildlife that visits the land daily. Sightings of predatory birds, roaming sheep and badgers have been welcomed, after all increasing native wildlife is one of the first goals of regenerative agriculture. Spotting wildlife has further confirmed for Fenton that all their hard work is finally paying off, 'Some little ponds we dug we had toads come by and I want to keep doing that, I want that place to become like a little haven for wildlife,' Fenton says, 'that's something both of us are really driven by, naturally protecting the parts of our natural system that don't get a voice. That's what we want to try to bring back.'

As the land regenerates, Fenton has really seen how much nature rehabilitation is important not only for our environment, but our own understanding of the Earth we live on and the amount of nature engagement we realistically get on a day to day basis, 'Our baseline for how we think of nature and wildlife is completely not what it should be, but we only know what we know because we are exposed to the world we are in... Aweside Farm has made me very aware of how much has been taken away from us,' Fenton articulates.


In their first year on the farm, Sinead and Adam have focused mainly on
rehabilitating the land, photograph: Aweside Farm
Working on the land has been a healing relationship in more ways than one. For Fenton, it has allowed her to switch off and slow-down in her own life. Having suffered with anxiety and depression, being in the natural space of the farm has been a therapeutic experience. In fact, it was one of the reasons she got into growing in the first place, 'volunteering at a community garden came out of me subconsciously needing something that I wasn't getting in life. When I am in a natural environment, there is something that is very soothing about just being able to observe other life and being part of it, we are not separate from [nature] even when the world likes to put a clear division between us.'

As being at Aweside Farm has allowed Fenton to connect more with her mental health, it is also one of the reasons she is such an advocate for mental health awareness on social media. Aweside Farm on Instagram frequently shares mental health awareness and information to its followers, 'I will always try to make a point of talking about [mental health], because actually seeing people talk about their experiences on social media made me aware of what was happening and what I was going through and it also made me not feel alone. If I can give that back to someone like someone gave back to me, that is something I can do,' Fenton shares.


Throughout the year, the couple have wildlife gradually return to the land, photographs: Aweside Farm
In the future, Fenton is optimistic that the positive effects regenerating land has on mental health and the environment will encourage others to start understanding the potential impact small-scale farming could have on repairing our depleted land. Though small scale farming is often overlooked, and is seen as not having much impact, environmentally, Aweside Farm demonstrates that traditional farming can no longer go on the way is it. 'We have more going on than the farms around us. If you walk around farmland or just in the countryside, you're in a place of destruction and devastation, those aren't environments where wildlife can survive,' Fenton explains. However, Fenton understands that without proper financial support from the government for agricultural businesses, regenerating land on a larger scale will be very difficult. 'A lot of [farmers] who aren't regenerative don't want to do it because they haven't seen it, there aren't many economical examples of it and that is often what it comes down to, but there needs to be financial support.'

Ultimately, Fenton wants others within the agricultural industry to understand that transforming the way we farm is in our country's best interest long term. She explains that in order to change such old mindsets there needs to be more people who are taking the bold step to provide reasons and evidence on how regenerative farming is achievable within UK land. 'We have to break the cycle that people have that it is normal to be taking away constantly to the point that the system no longer works, to the point that land gets discarded.' Fenton states, 'We need to take some time out, let the land regenerate and then get back to the farming .'


In the future, Fenton hopes that more farmers understand that regenerative farming will help
save the agricultural decimation caused by traditional farming, photograph: Aweside Farm
---







CARGO 2018 / TOOLS FOR THE WEB / LOS ANGELES CALIFORNIA 90039